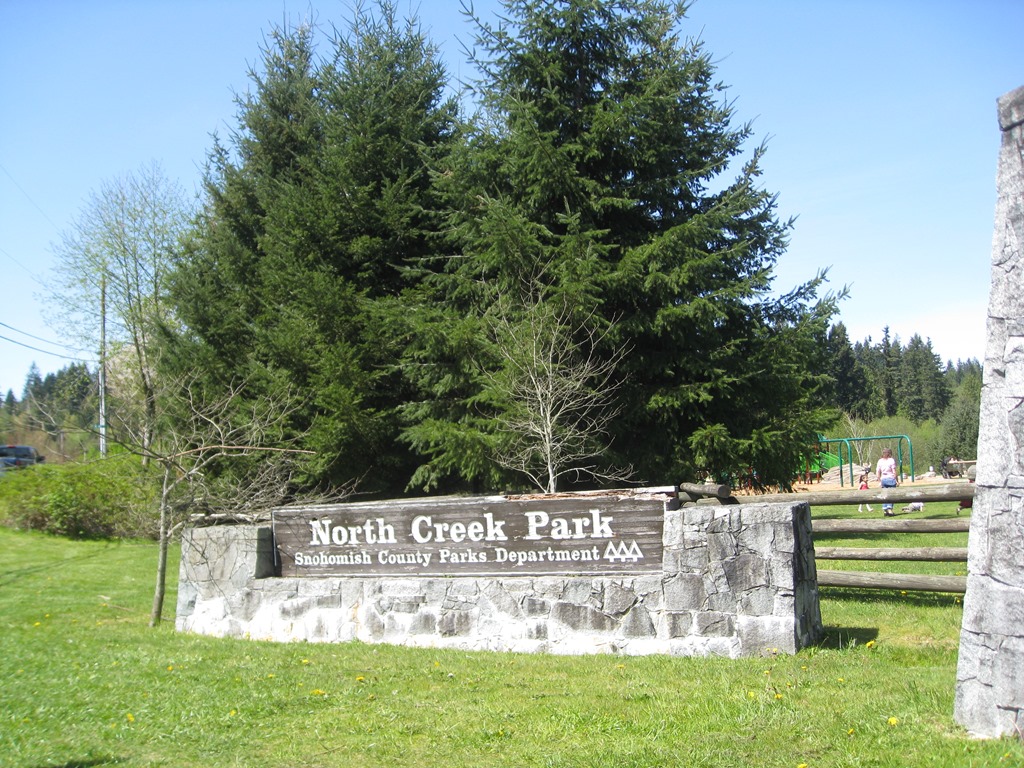 Photo by Life Lyn Style



Mill Creek, WA 98012




North Creek is well into the depths of suburbia, combining an exquisite park area with a public-utility-functioning nature preserve of sorts. You won't end up here on accident, yet it's well worth planning an extended visit.


Wetlands Nature Walk
The unique feature among all of the parks on our tour is the 3/4 mile boardwalk through the semi-tamed wetlands, abundant in less familiar wildlife and flora. The park's official website links to a
gallery
of the resident fauna (we only saw a black snake, some bugs, and some wiggling in the water) but unhelpfully does not include this
park guide
. Signs are posted at several spots (with benches for rest and observation) to explain points of interest and explanation. One of the signs has a cool explanation of how the wetlands act as the area's kidneys. The kids were a bit nervous about walking on the boardwalk, but it's really well-constructed and safe. Parents of toddlers might want to keep them restrained as guard rails are in short supply.
Amenities/Facilities
There aren't any formal sports areas, though there is plenty of space for soccer, football, Frisbee, etc. There are two sheltered picnic areas, one adjacent to the play area and one further down the trail, a picnic table under a tree by the play area, and one random isolated picnic table, probably designed so teenagers can have a place to discreetly break up with their significant others.
Drawbacks of an Otherwise Great Park
It doesn't matter for most of the year in the Seattle area, but there is a serious lack of shade in the play area. Lazy dads trying to read 20-year-old Tom Clancy novels while their small kids play have to sit at that one table at the right time of day or they will roast.
The biggest drawback is the lack of real bathrooms. The playground is suitable for a variety of ages, but having only Sanicans is a major deterrent for kids and people who don't enjoy being trapped in a little box full of other peoples' waste.
Play Area
As alluded to above, the primary play structure has features for both older and younger kids. The quasi-castle has some weird appendages that were interesting to see our kids figure out. Fake climbing rocks and other surfaces didn't get too hot. This area was immaculate.
Review
North Creek Park is a visual treat and a great time. We normally like to get out some balls to kick and throw around, but we didn't even get to that with so much to do and see. On the boardwalk, the grass is often so high you really can't see much, but it was still fun and informative. We found it a great place to play, although we can't help but dock serious points for not having a bathroom.