Here they are! Our Christmas Pictures! :-) I'll describe them all, though they are fairly self-explanatory.
We didn't decorate for Christmas until the Thursday before! Everything was spread between a few boxes, in various piles in our storage closet, and neither one of us had any motivation to do anything about it until that night. Then, I went crazy! I insisted on finding the stockings, and then everything else just kind of snowballed!
C

H

R

I

S

T

M

A

S

E

V
E
This is our Christmas "Tree". We didn't get a tree this year, so we put everything on our table. (Not like we use it anyway. ;-)) This was Christmas Eve before my family took everything over to their place. It's a mixture of gifts for us and from us.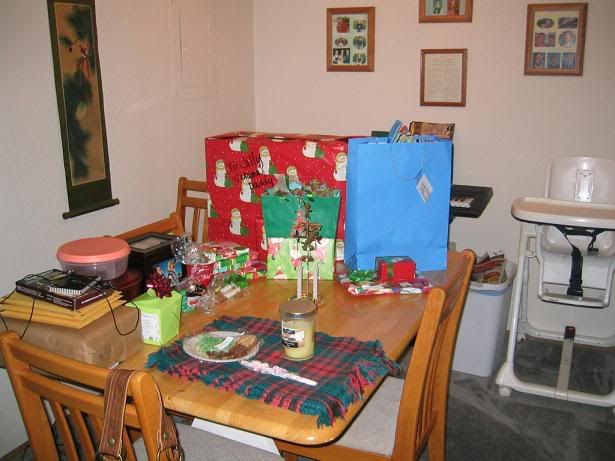 This is Jilly, trying to get to the good stuff. But Mama and Daddy are mean, and wouldn't let her play with any of the breakable decorations.
This beautiful porcelain nativity was my mom's for years, but she gave it to me over the summer and I am proud to display it!
We strung up some twinkling Christmas lights over our sliding door and they looked awesome! You can even see the flashing from outside. :-)
Here are our stockings, hung on our entertainment center. All three of us have stockings made by our grandmas! We've put all the Christmas cards & letters that we've received in that Santa basket (though Santa's face is kinda obscured) and we have another nativity. The stocking holder for Jilly is the stocking holder I had growing up. Steve's and my stockings were held there by glass statues on top of paper clips. A little precarious, for sure, but we didn't have anything else yet. Hehehe. Think I need to hit the after-Christmas sales for some new ones? ;-)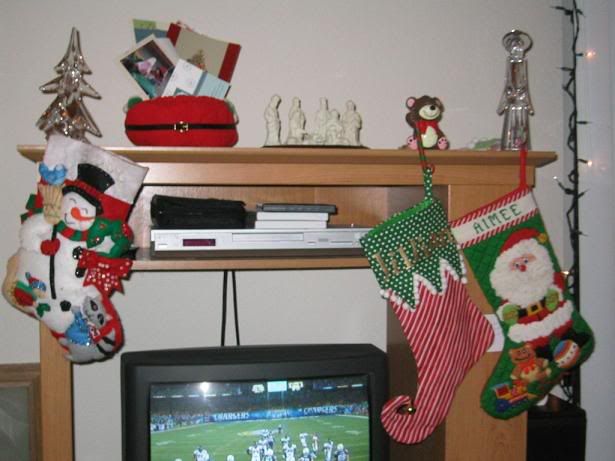 CHRISTMAS MORNING
We opened our stockings at home, before going over to Granny's. Jilly had a great time checking out her fun stocking.
She loved reaching in to grab new things, but sometimes needed Mama to take the things she'd already pulled out from her hands. She's such a hoarder.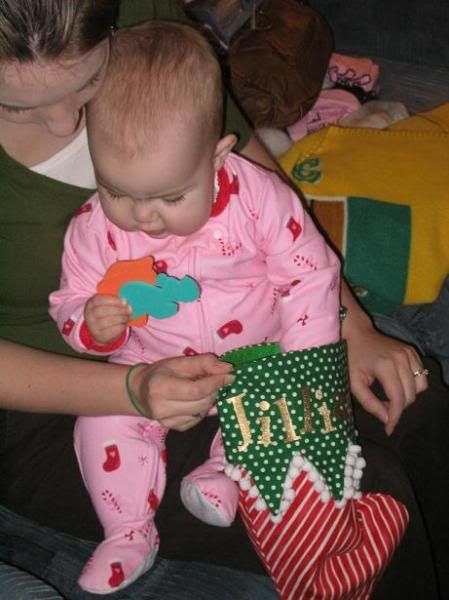 She LOVED her foam animals. She kept playing with them and chewing on them. They're awesome! She also got some Ghiradhelli chocolate squares. She refused to let go of one of them all morning! It took opening presents at Granny's to pry it out of her hands. Hehehe.

At Granny's, wanting everyone else to come out to the living room so we could open presents.
Grandpa Paul, aka The GrillMaster, opening his new Barbeque set from Katie and Andy. Check out all the chrome!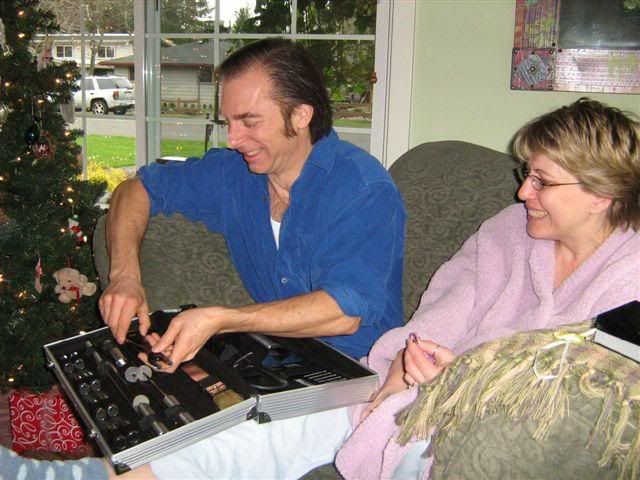 Jilly loved reading all her new books.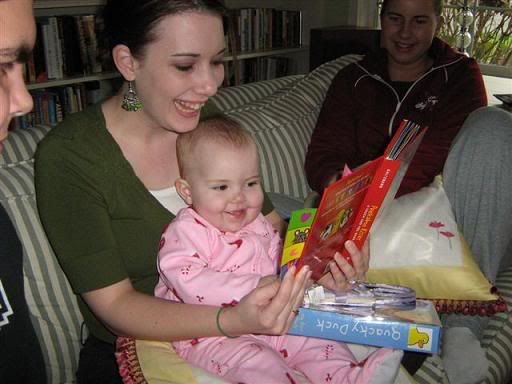 Paul and Katie smiling. Notice who won't let go of his new bbq set in the shiny chrome case? ;-)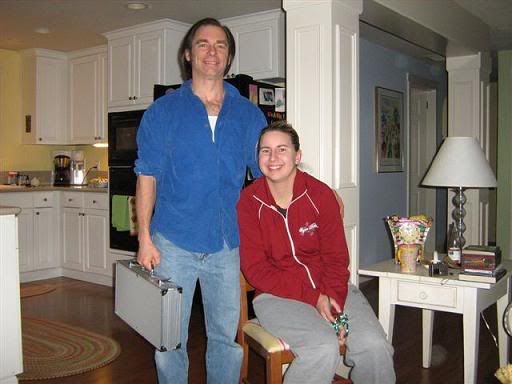 Jilly got pretty tired and cranky during the lengthy present opening session, so she laid down to drink her bottle.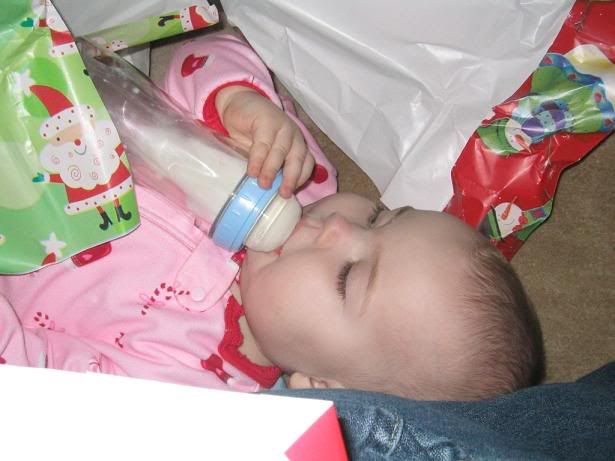 But she ended up getting buried in wrapping paper! We had to dig her out.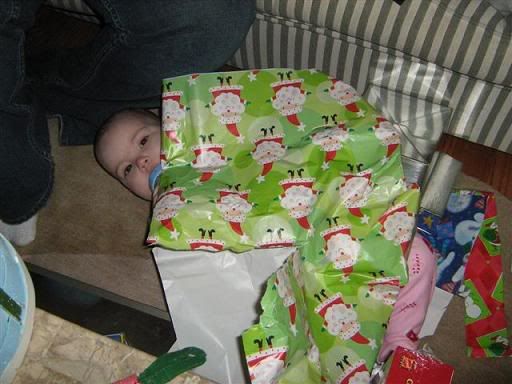 At long last it was time to open her present from Mama and Daddy. She enjoyed ripping the paper off.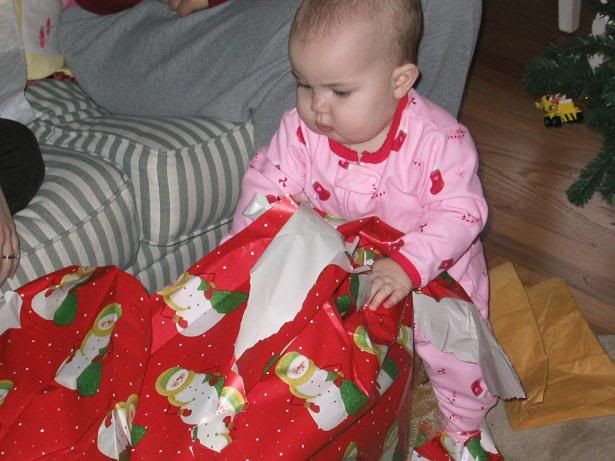 Again, Mama had to help just a little. Look! It's a walker car toy!

Here is the living room, after all the destruction. Auntie Katie, Granny and Jilly are stranded in the corner! ;-)
Now, it was time to test out everything. Jilly right away loved her walker/riding toy. Auntie Katie helped push her forward, and Auntie Juliet would push her back.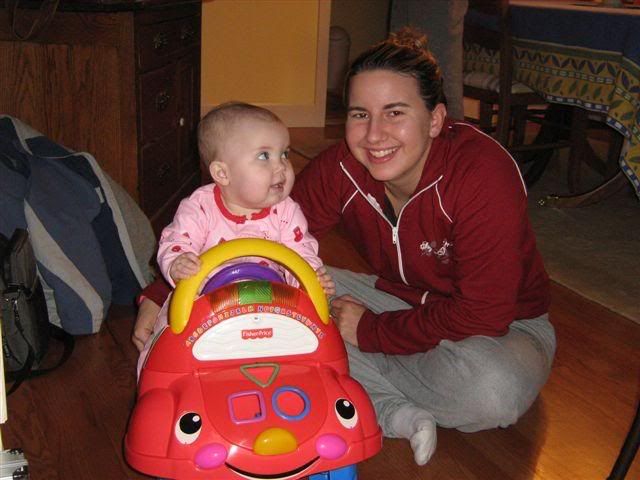 Vroom Vroom!! Look at her go!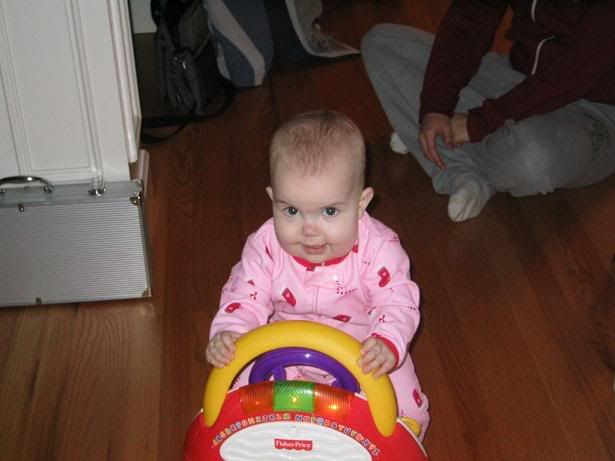 After brunch, it was finally time for a nap. So Auntie Juliet cuddled Jilly while she drank her bottle, to calm down for sleeping.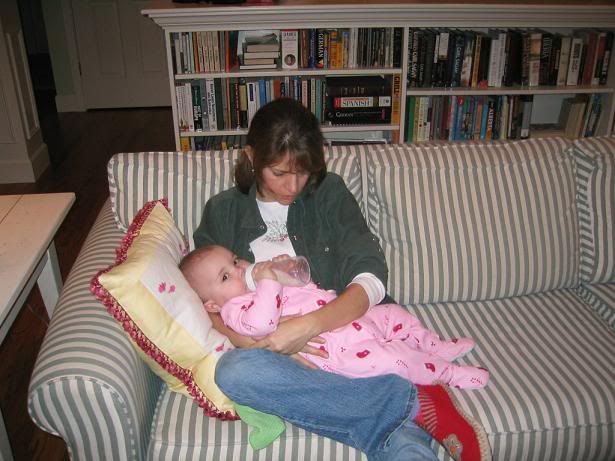 Well, turns out she didn't really want to nap, so she played with Grandpa instead. Look out! Crazy woman driver!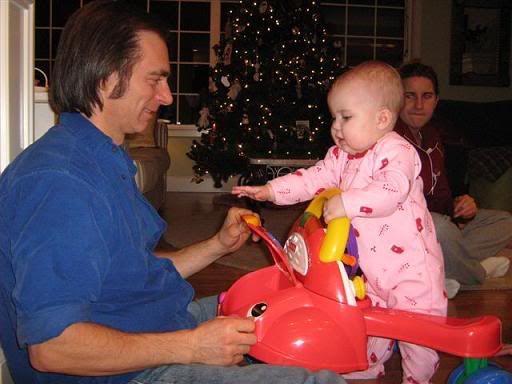 Finally! Time for a yummy dinner!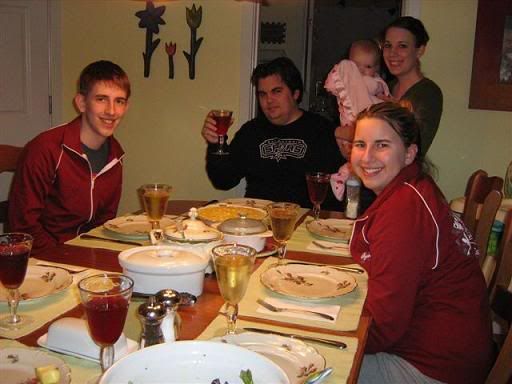 What a wonderful way to cap off a cozy and wonderful holiday. :-)