Last night was the big night: Jillian's 1st Birthday Party!
It was a fabulous time. We had a dessert party at Granny Sam & Grandpa Paul's house. It was even more special, because Jilly got to share the honor with Auntie Katie and great Auntie Juliet!
The evening got kicked off when Auntie Katie got Jilly dressed in her fancy party dress (thanks Granny!). She was quite the little lady!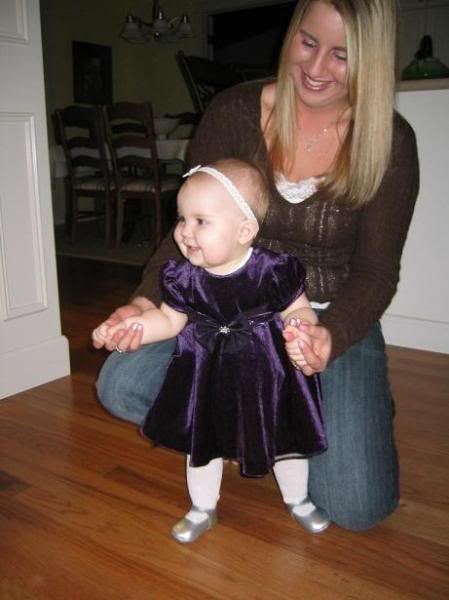 But she got tired of posing and wanted to crawl away. You can't keep that baby in one place for long!
Playing with toys with Grandpa was an much more exciting option, than posing for pictures.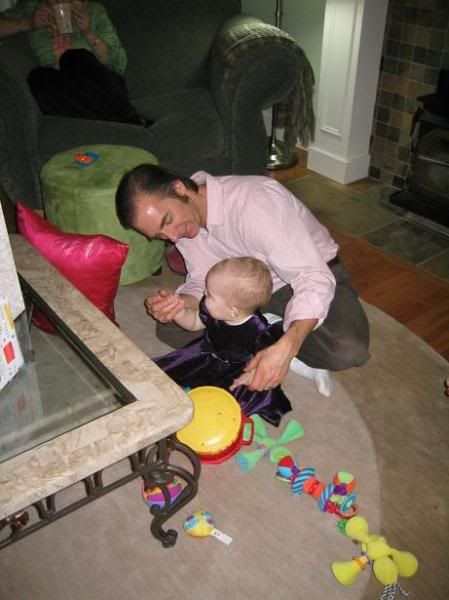 But we made sure to get some cute shots of her with her Daddy, in her fancy dress.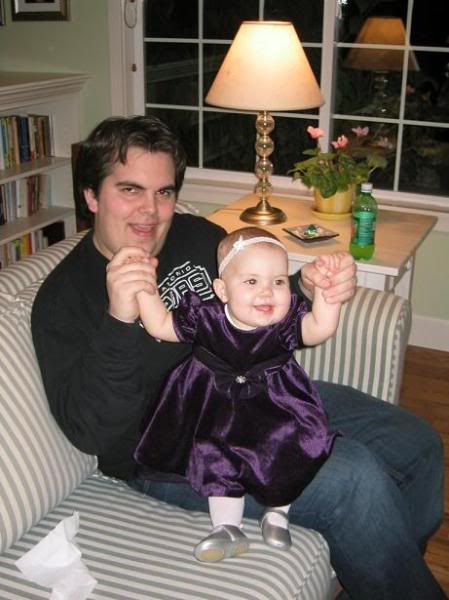 Yaaaaaaay Jilly! What a pretty girl!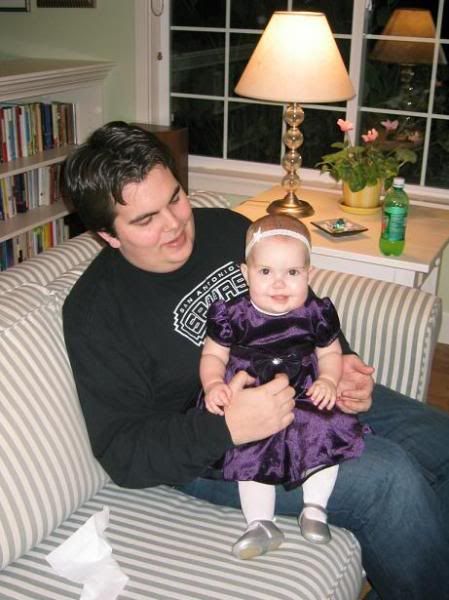 After some play, once everyone had arrived, it was time for presents. Jilly's first gift was this beautiful rocking chair from Granny & Grandpa. It's a tradition in Mama's family for the oldest child to get a rocking chair for their first birthday. Mama got one (Granny still has Mama's), and cousin Haylee too. Jilly's chair is a beautiful honey maple color, which will match her bedroom furniture fantastically!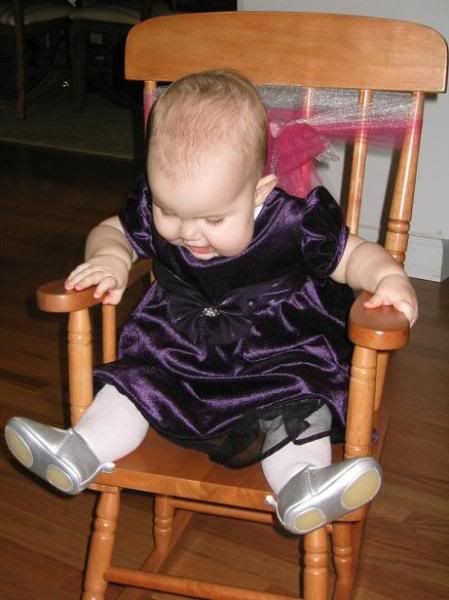 As soon as we sat her in it, she went right to rocking. A couple times, she rocked too far forward and Auntie Juliet had to catch her. She'd get all serious, a little freaked out because she felt it, but then went back to rocking.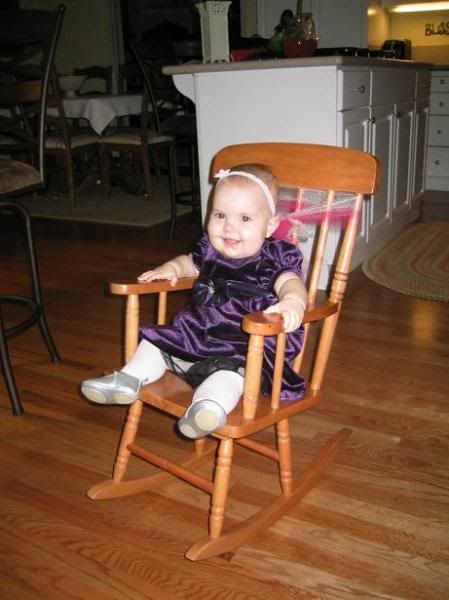 Next was the present from Mama & Daddy. This is what it looked like at the beginning.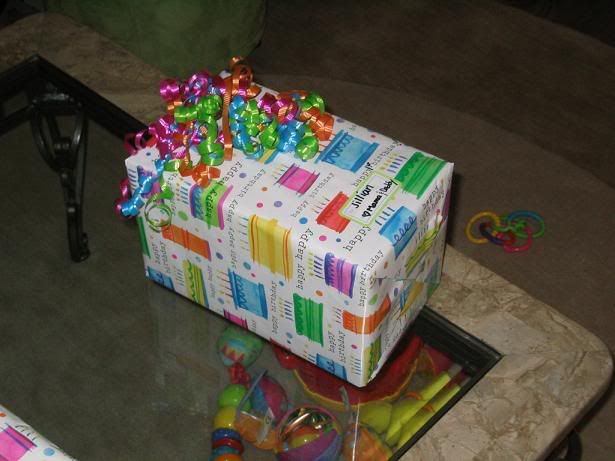 The first thing she did was pull apart the ribbon. That was why I bought that one for her, so it's all good. Grandpa did help, though. ;-)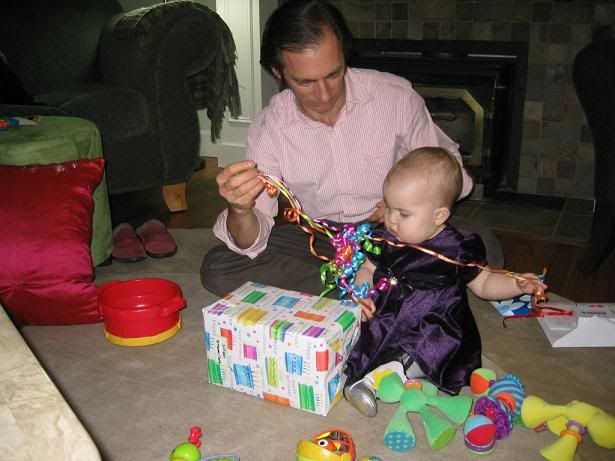 It took her a minute to get started, but once Grandpa Paul showed her how, she started ripping off that paper and getting to the good stuff.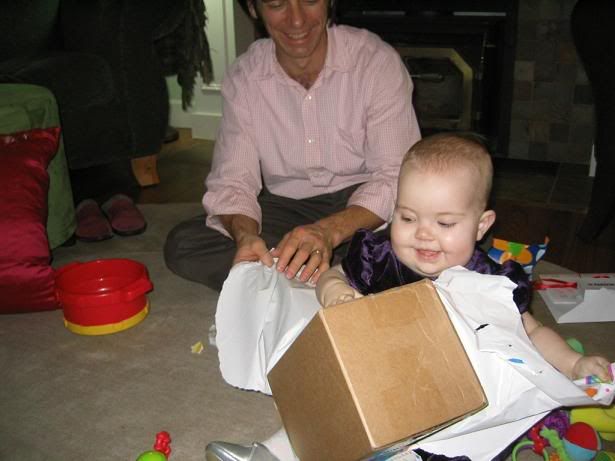 Outta my way, paper!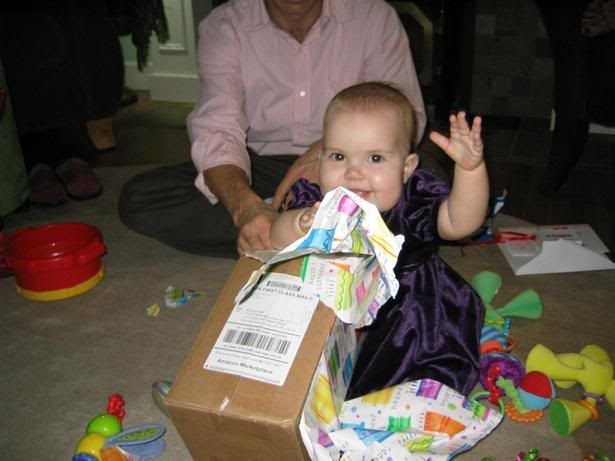 Look Mama! I'm doing it!
What is it? It's a Burrito!! What a cute little donkey Jilly can cuddle!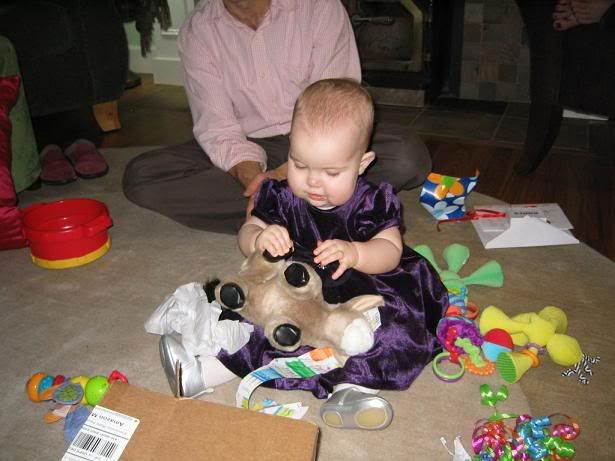 Next, we opened Auntie Juliet's present. There were two awesome board books: Richard Scary's "Cars & Trucks A to Z", and Dr. Seuss' "Mr. Brown Can Moo! Can You?". What fun! Jilly's been needing some books that are as rough and tumble (or rather, drool-resistant) as she is. Auntie Juliet also gave her a beautiful white dress with cherries on it and a cherry hair clip for next summer (provided she has hair by then), as well as some long sleeve onesies. They'll be great because it's gotten cold lately!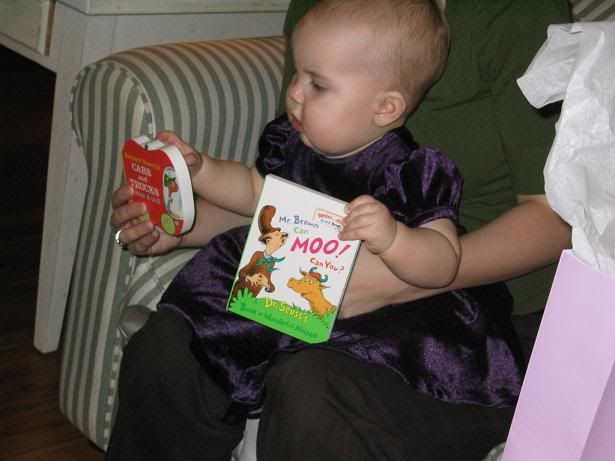 Auntie Katie got Jilly the movie Mary Poppins! Mama was probably more excited that Jilly because our whole family loves that movie! Not only was it the DVD, but it's a special anniversary edition. Oooooh. ;-) Jilly immediately marked her territory; her way of approving of the gift.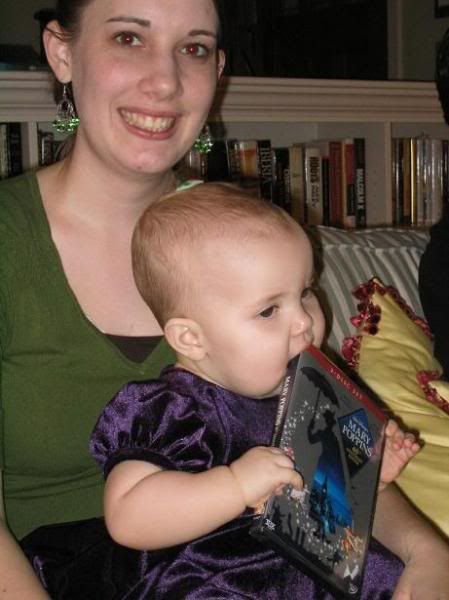 After presents, it was time for cake. While Mama was getting it ready, Jilly got some quality snuggles. First, with Auntie Katie.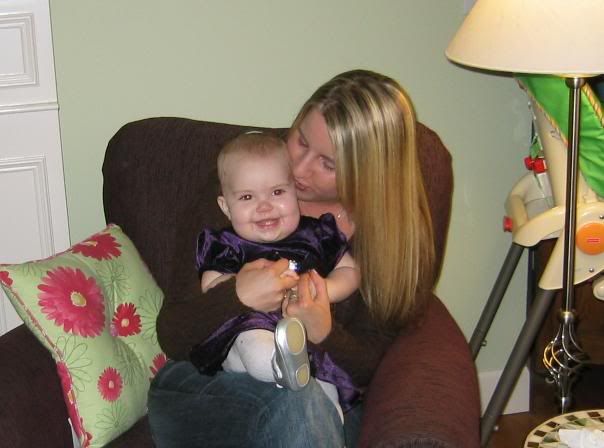 Then next with Granny.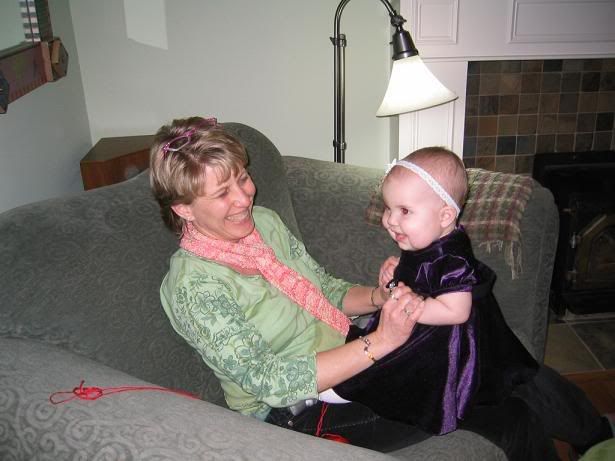 And then, the cake! This was the cake before we lit it up. There was a #1 for Jilly, a K for Katie and a J for Juliet.
Here are the birthday girls, blowing out their candles. Auntie Katie had to hold Jilly's hand, because she was fascinated by the fire. (And by fascinated, I mean insistent on touching it.)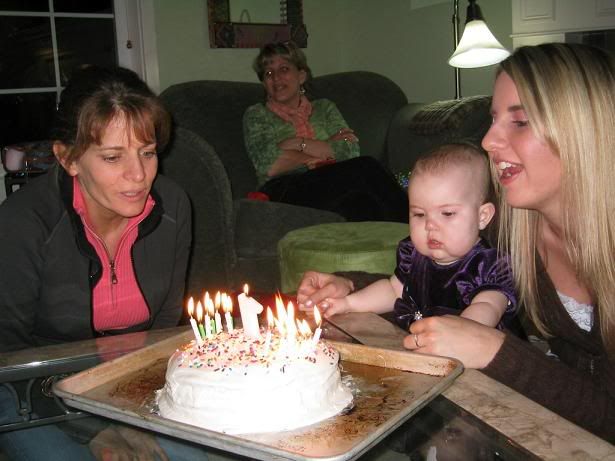 Surprise! You thought it was just a normal cake, but in reality, it's a rainbow!! A rainbow cake, how neat is that!!! Mama was quite proud of herself for pulling it off.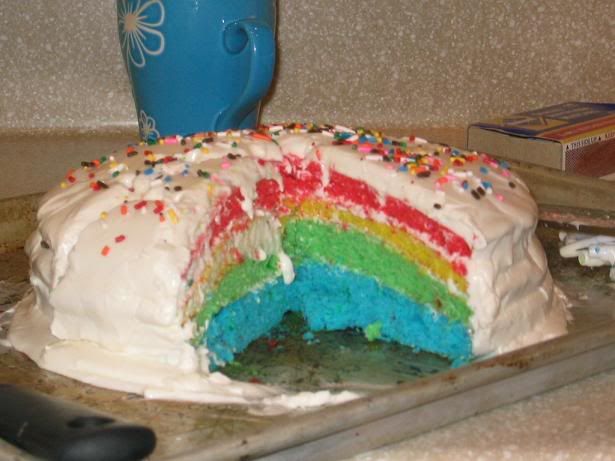 Everyone loved it. Jilly really enjoyed her slice.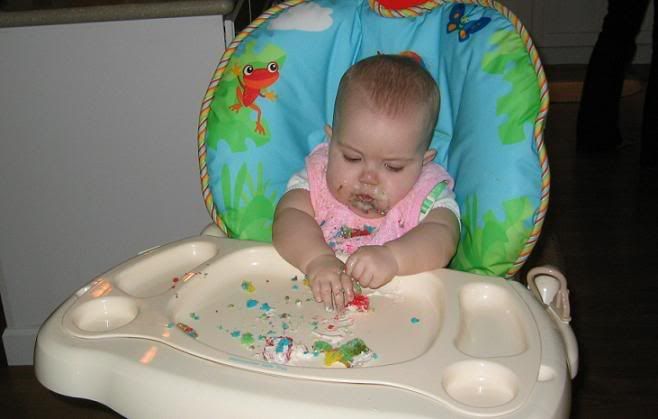 The colors were really interesting for her.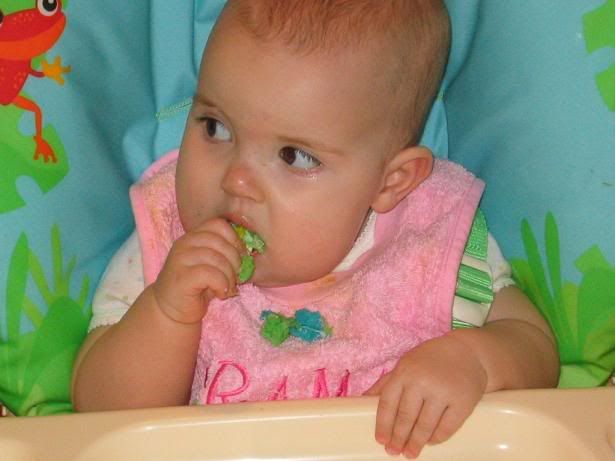 She ate the whole slice!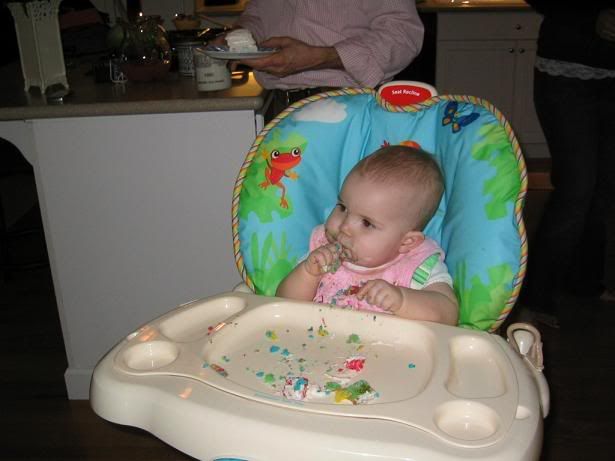 So it was a fabulous night for our little Jilly Bird. She had lots of fun, was thoroughly spoiled by everyone and was completely adorable. It's hard to believe a year has gone by already, but it's even harder to imagine life without her. Happy Birthday Jillian! We love you!