As you may know, Halloween was last week. Well, Jilly didn't go trick-or-treating (something about not being able to walk or talk ;-)), but she did get dressed up for our church's "Boogly Nights" Halloween Extravaganza. It was Saturday, Oct 27th, and Jilly was 11 months exactly. She went as a very adorable Tigger. The costume was procured by Auntie Juliet (THANK YOU!) and fit great, except for that giant melon we call her head (thanks Halls). The hood couldn't be pulled up all the way, but it worked well enough. And she sat still and let me paint her face with a nose & whiskers.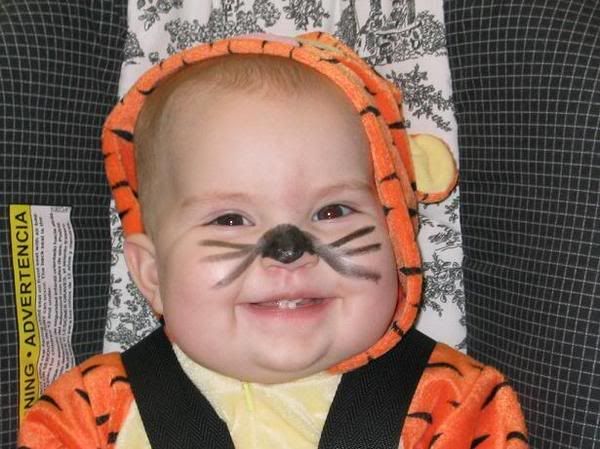 Tiggers are wonderful things! Our friend Becky brought her little girl, Katie, to the events as well. Katie is almost 3 and spends an occasional Saturday with Steve and Jilly, while her parents have to work. She was quite the stunner as Cinderella!
To start out the evening, everyone met in the gym for the Chili cook off. The food was quite yummy. Jilly especially enjoyed the cornbread. I think it was more the feeding herself that she was so in love with, but either way, it made her happy! :-) Becky was very kind and held Jilly while Steve and I got some food. Katie then got a little shy with all the strangers, so she insisted on sitting with Mommy too. So Becky had a squiggly 11-month-old and a concerned 2 1/2 year old on her lap. Lucky girl!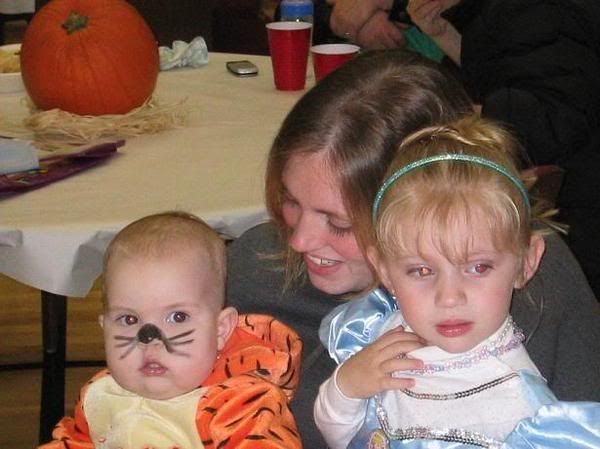 Actually, she was happy to do it. :-) After the dinner, we went off to help run the Cupcake Walk (Mama's job). It was quite fun to see all the little kids come in with their awesome costumes on and try to win a cupcake. There were other booths in the church, like a Spook Alley, a catapult game, homemade root beer and a few other things for everyone to enjoy. I didn't get to see them really, because I was helping with the cupcakes, but everyone seemed to be having a ball. :-)
Once the booths had run for awhile and everyone was bored of them, it was time for the Trunk or Treat! (For anyone not familiar with Trunk or Treats, it's basically Trick or Treating within a parking lot, at people's car trunks, instead of their front doors. It goes faster and is generally safer, since you mostly know everyone there.) Of course, we parked next to this family that went all out decorating their trunk! We were totally upstaged. (Not that we had anything "staged". ;-)) Hehehe. It was pretty nippy by this point, but Jilly was quite content to sit in her stroller and watch everyone. Actually, she kept staring at the tail light on the car. The red light fascinated her. Granny, Grandpa Paul and Auntie Karen showed up to see Jilly the Tigger and took her inside while Mama and Daddy finished handing out candy. By this point, Jilly had messed with her make up so bad, that Mama wiped it off. In the end, lots of fun was had by all, Jilly was very pleasant the whole time (which had been doubtful because she was crazy grumpy right before we left), and was utterly adorable. She was a tired Tigger, but a still a cute one, at the end.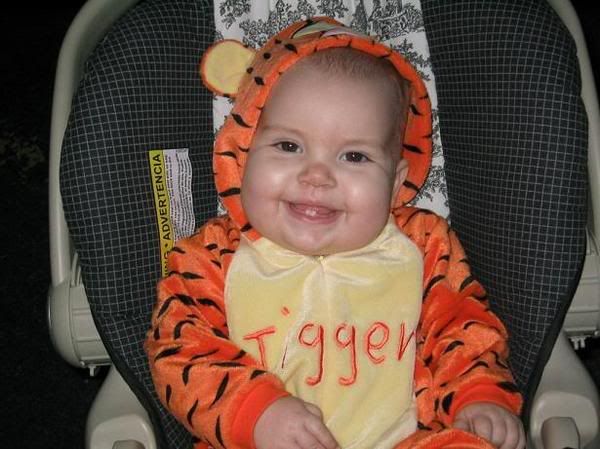 On Halloween night itself, Mama had to work, so Daddy stayed at home with Jilly. We thought about going to the costume contest for the apartment complex, but it was too late by the time Daddy remembered. Oh well! We'll have many more Halloweens to show her off. We ended up having NO trick or treaters! Not one single kiddo! It was a little disappointing, but that just means we got all the candy. Thus far, Jilly's been happy to just play with the wrappers. :-)