Easter was pretty low-key at Hall Manor this year. In the morning, Steve and I both had Church meetings. In fact, I had one at 9am, then rushed home so Steve could get to his at 10:30am. Then he rushed home so we could get to Church on time. It actually went great. Amazing how I can be ready on time for Church, when I am ready 4 hours early and have 1 1/2 hrs to get Jilly ready. Hehehe.
At Church, we sat with my friend Michelle and her kiddies, because her husband was out of town and she needed to sing with the Primary kids and Ward Choir. It ended up working out, because Steve had forgotten the diaper bag, and since Michelle's little girl Maya is Jilly's age, she had all the munchies and toys to keep them amused. But of course, as soon as Michelle had to go up with the Choir, her almost 4 year old Lincoln, needed to use the bathroom. I took him, leaving Steve with the girls (Jilly, Maya and Natalie who's 6). Maya didn't care for being left behind by both her mom and me (her and I are buddies in Primary) with a strange man, and promptly began shrieking. Steve was desperately trying to decide what to do (gather all three girls up and go out or what?!), Michelle was watching, horrified from the stand, and I was oblivious, being in the bathroom. Luckily, the sister sitting behind us saw the dilemma and offered to take Maya out into the foyer. Maya calmed down, Lincoln and I got her sippy cup and blankie from the Primary room and found her in the hall. I took them both back in and the rest of Sacrament Meeting went just fine.
After Sacrament, Michelle took Maya to Nursery for the first time, while I got the Primary room set up. It was pretty much just the two of us, since Heidi was out of town and Kati was coming late. We just sort of "winged-it" (wung it?) since we didn't have a conducting sheet and got everything going. Michelle, being such an uber-rock star, did both Singing Time AND Sharing Time. I was in and out of the Primary Room, helping take kids to the bathroom and other such things, because a couple of the teachers were gone that day. At one point, I saw Steve out in the hallway, alone. That was especially odd to me, because he had Jilly for Sunday School. Well, it turns out that Kim, our Nursery leader, didn't have very many kids in there, so she asked Jilly and a couple other kids her age to come in, even though they're technically too young. Jilly got to come home with a little Easter bucket and some goodies. Thanks Kim!
After Church, we all took a nap and then it was time to go over to Granny and Grandpa's for dinner. Dinner was super yummy and we had a great time with everyone. After dinner, we settled down on the couch to give Jilly her Easter presents. Granny got Jilly a book about a Ladybug that Jilly loves. We got her her own set of keys, since she's constantly trying to steal ours, as well as some animal crackers and Easter eggs. We figured she was a little too young for jelly beans (I seriously started typing Jilly Beans) so we filled the eggs with animal crackers. Here are the pictures: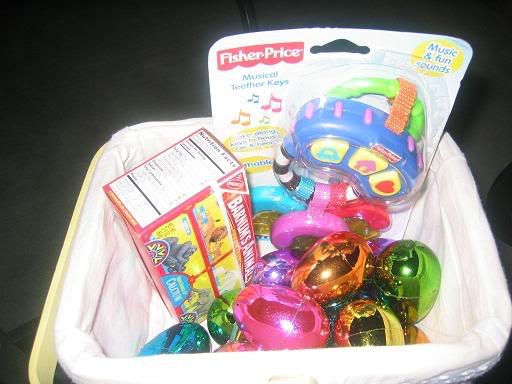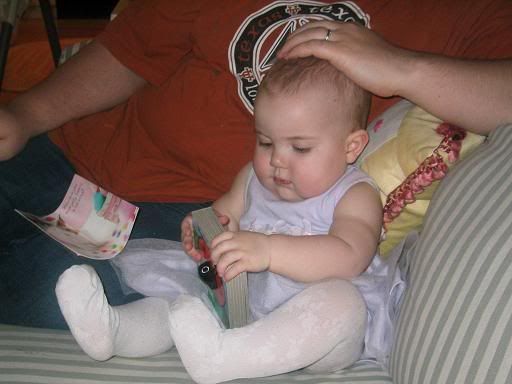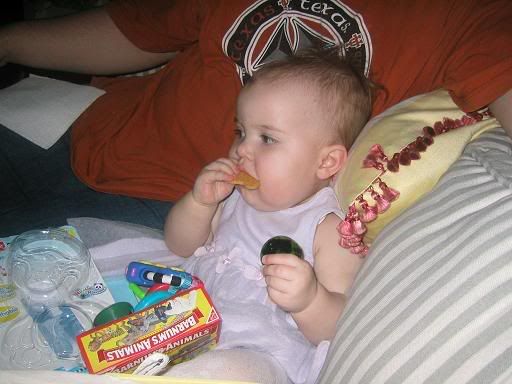 We had a very nice, low key Easter with family and friends. Hooray!
Granny got Jilly a book about a Ladybug that Jilly loves.