This week for Playgroup, we went to Carleton Farms to visit the Pumpkin Patch! Stacey was kind enough to give Jilly and I a ride so we could go. We were a bit worried about the weather, but luckily the rain held off until we were pretty much done. Plus it had been dry for a few days before, so it wasn't nearly as muddy as I was expecting. We got to the farm and the first thing all the kids wanted to do was play on this tube slide. It went down the hill from where the parking lot was to where the pumpkin field was. The kids played on it for a long time! Everyone loved it. I, being the dork that I am, forgot to take my camera, so thanks again to Stacey and Kati for catching these super cute shots of Jills.
This her going down the tube slide, looking down. She would take a bit to really get going.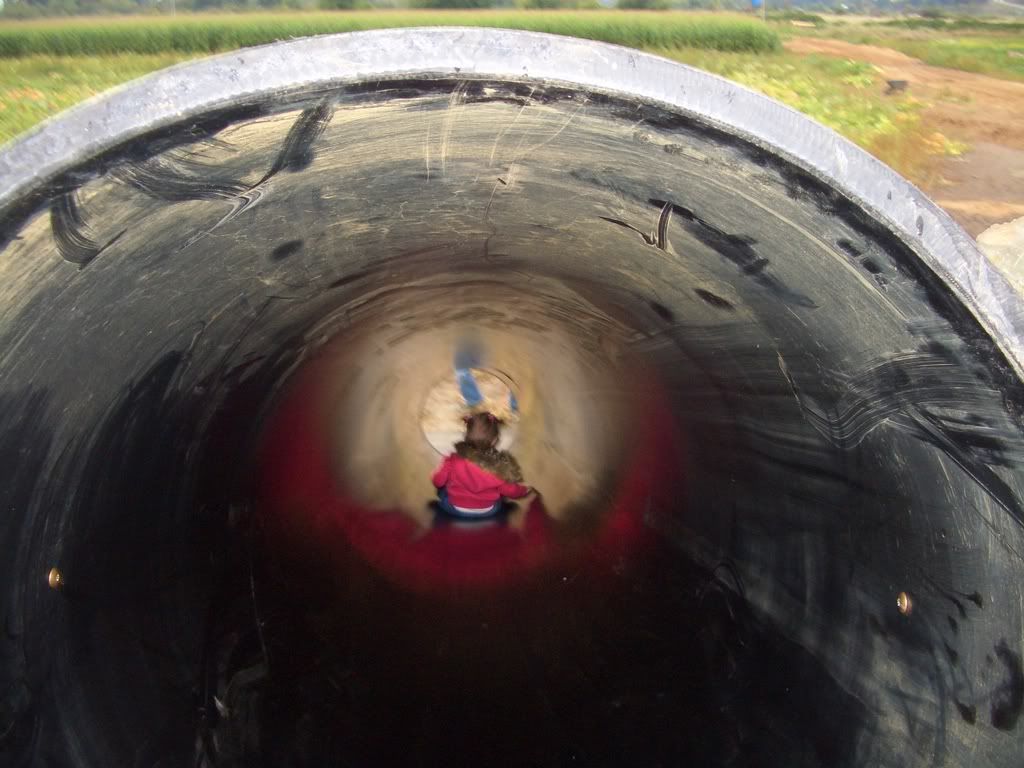 Then you'd see this; Jilly whizzing down the slide.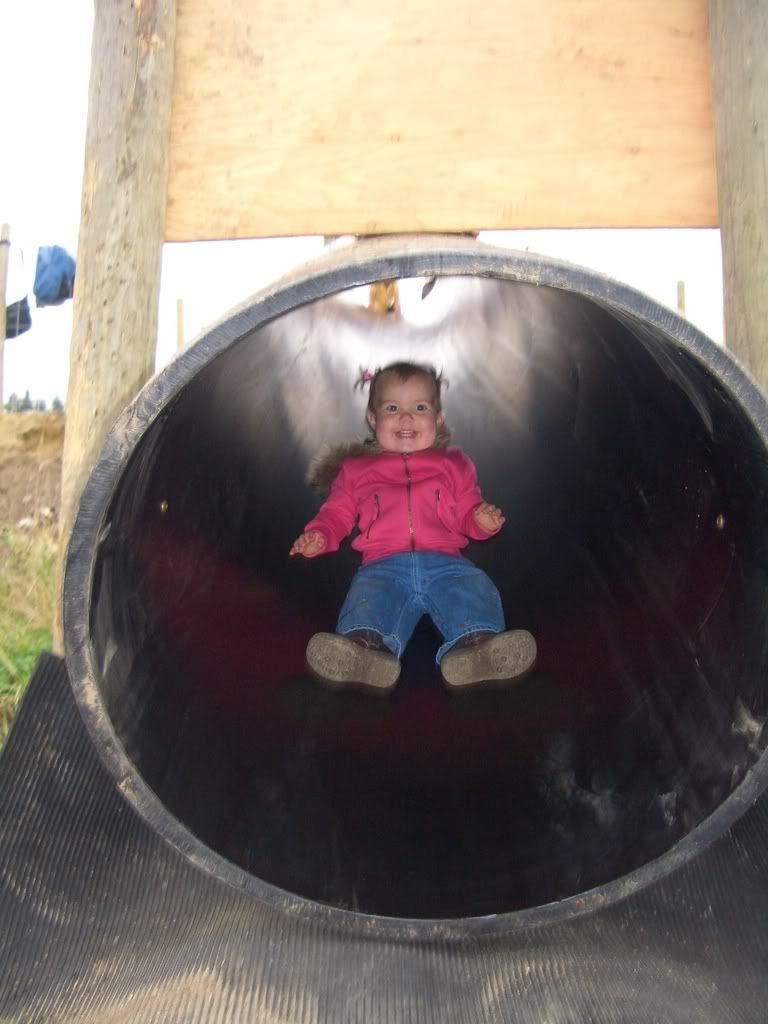 And then she'd pop out at the bottom, on her bum.
Jilly being the silly girl she is, she would often try to climb back up the slide. Or she'd try to watch her friends come down, but she'd be right at the bottom, so I had to keep dragging her away, so she didn't get knocked over. Silly pants.
After a long time on the slide, I decided she was done and we needed to find a pumpkin. I just wanted a little Jilly-sized pumpkin. She did NOT agree with my plan. She just wanted to keep climbing up the hill and going down the slide. I tried to get her to come out into the field and she fought me. She pouted and whined the whole time we were out there, and made me carry her. I can see why the uneven, slightly muddy ground was weird for her to walk on, but it was annoying to me. I finally found a little pumpkin that I liked, pulled it off the vine and we headed up the hill.
There was a "Kids Maze" up by the produce stand and the kids totally wanted to check it out. Jilly actually walked right in and starting going through it with no problem. I was totally surprised. I expected her to start getting confused and frustrated, but it didn't happen. She was just cruising. So what do I do? Jinx it by pointing it out to my friends. Haha. Seriously, as soon as I said it, she turned around and walked back the entire way she had come (more than halfway!). Silly Beans!
Here she is "finishing" and coming back out the entrance!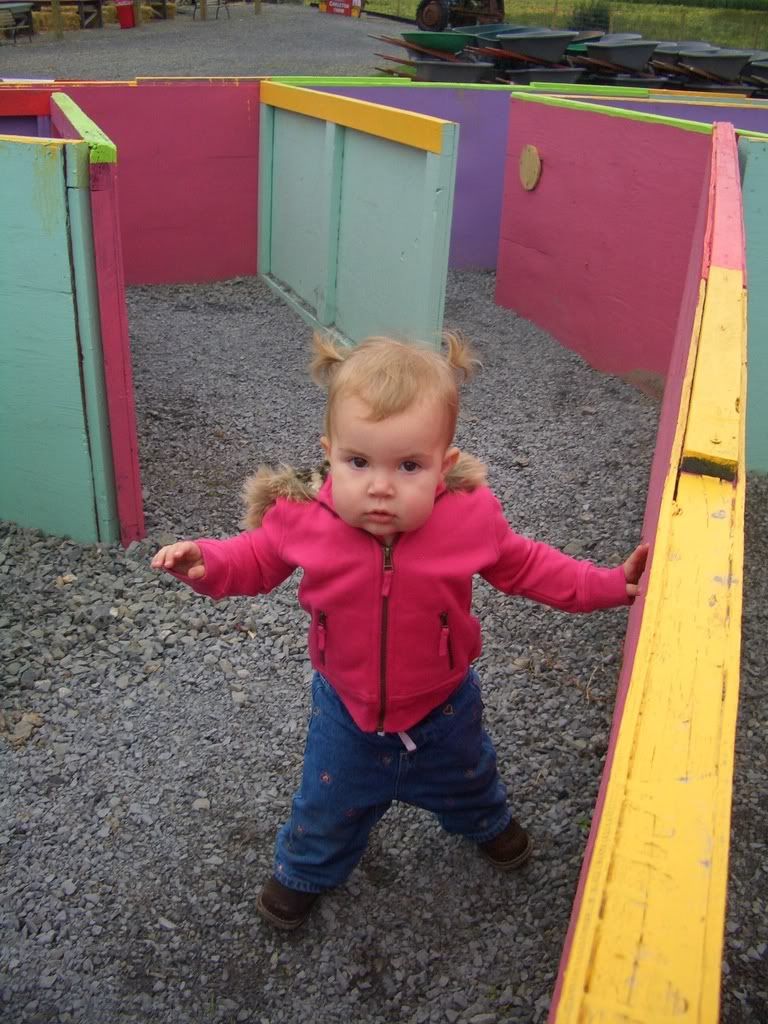 We then went inside the produce store to pay for the pumpkin. We actually ended up swapping pumpkins, because they had these big boxes FULL of beautiful little sugar pumpkins for only $1! It was so pretty and perfect, orange, round and with a cute stem, I liked it better. Then inside, I browsed through the produce and decided to get some baking potatoes for dinner Friday night and a mango for a snack. Jilly kept running away from me and insisting on playing with a shopping cart, so finally, I grabbed it and stuck her in. It at least kept her contained and satisfied a little longer.
After we purchased our produce, we dropped the stuff in the car and checked out the animals. At first Jilly was fairly disinterested. But that's to be expected when fruit snacks are involved. ;-) As soon as she finished the snack, she had fun looking at them all. There were chickens (roosters, hens, and baby chicks), peacocks, pigs, goats and sheep. The lambs really got Jilly's attention, she kept running out in the rain to their pen. Then the pigs just made her giggle. They started snorting and trying to get to the kids (thinking they had snacks to share). At one point, Jilly was holding on to the cage door, and one of the pigs touched her fingers with his snout. She giggled and pulled her hand away; it was pretty funny.
She really loved looking at the pigs.
After we looked at the animals, it was time to go home and put some tired kiddos down for their naps. :-) It was a lot of fun going to the Pumpkin Patch! Something I'll now look forward to every year.