I just realized with horror that there were no pictures on the front page of this blog! How ridiculous of me!! So it's time for a big juicy photo blog. You won't regret it, trust me.
We'll start out with our adorable Jilly pants, in her pjs, with a very messy face. Messy but so cute!!!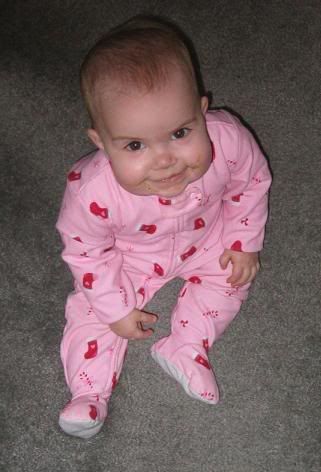 I've previously warned you all that Jilly was a scavenger. For those of you who didn't believe me, here it photographic evidence! After church on Sunday, we had pigs in a blanket. I'd left my plate on the couch and Jilly sure found it.
She is a generous child, however, and is learning to share her food with others.
But hey! If you don't want it, she'll gladly stuff her own face.

And kindly leave a mess for her parents.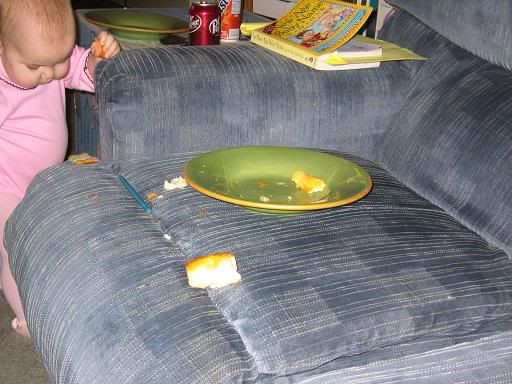 Speaking of her parents, they've apparently taught her well, so she knows where the good stuff is. Notice how she went straight for the Dr. Pepper can, and ignored the other one? Yup, that's our girl.

Once she was stuffed, she moved on to her cookie jar. This is her FAVORITE toy ever! (Thanks Grandpa & Grandma Hall!) She loves displaying it to everyone and making it sing.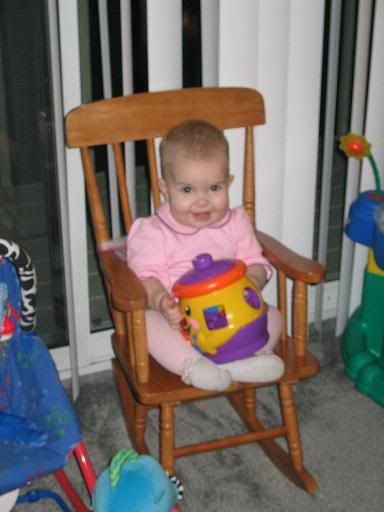 These are her very pretty ballet shoes. Granny Sam bought these for her for Christmas. Interesting fact: these are the same shoes, type and brand, that my mom bought me when I was a baby. When she saw they were still being made, she had to buy a pair for Jilly. They're great! And you know what else? Daddy is pretty convinced his Beanie Beast was made for ballet. He's got a great point. She is graceful, knows how to extend her legs, keep them straight and even points her toes! Now, if she could just stand.... ;-)
We recently got a postcard in the mail from our niece, Tejas, in New Zealand. Jilly LOVED reading it!!! She just kept staring at it and flipping it over and giggled the whole time! Thanks Tejas!! Your cousin loves you!! :-)
By the way, this beautiful dress is from my Auntie Terry in Connecticut. I've been waiting and waiting for Jilly to get big enough to wear it. Finally she is! It reminds me of dresses my grandma gave me when I was little. And another funny note: Steve makes fun of me and claims I can't tell the difference between Nacy Blue and Black. (I'm convinced a black couch we have is actually navy blue). I was convinced this dress was black for almost a year that we had it. The first time she wore it, we put her in black shoes. As soon as we walked outside, it was painfully obvious the dress was actually navy blue and the shoes looked ridiculous! Oops! At least I mess it up both ways. ;-)
Like mentioned before, Jilly loves reading. Her Dora the Explorer "Under The Sea" book is one of her favorites. She'll always grab that one out of her basket. She also loves her donkey, Burrito. Apparently she knows Burritos are tasty!

We haven't put her infant car seat away, pretty much because we're a little tapped out as far as storage space goes. So we set it next to her crib, by the computer desk. It's out of the way there, and sometimes when we need to get something done and she insists on messing with everything, I'll sit her in there with a book and it usually entertains her for 10-15 minutes.
After all the reading, face-stuffing and exploring of a hard day's work, it's time to clean up. Jilly loves her foam sea animals and miraculously doesn't seem to notice when we stick them to her head. Thus far 4 is the record, and we just had to document that record setting event.
The bath can take a lot of out you and if you don't put her to bed soon enough, she's liable to fall asleep on the floor! Notice the hand on her face, as if exclaiming, "Woe is me!" ;-) Drama queen.
But she'll forgive you the next day. ;-) We're finally introducing her to the idea of sitting down for a meal. This was breakfast the other day. Could it be true? Might she be figuring out the sippy cup??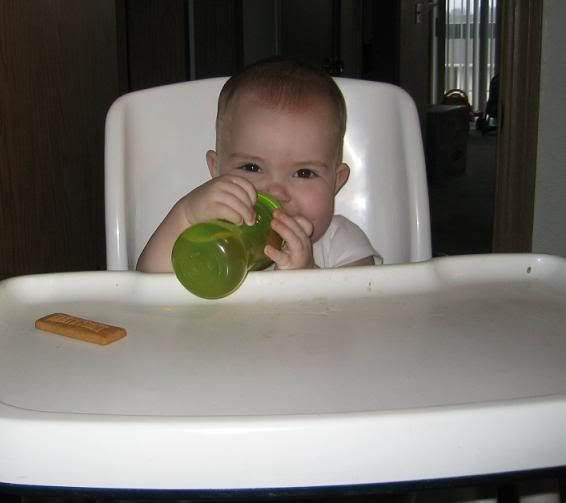 Meh... Forget the sippy cup, high chairs are more fun to turn around in! How she manages this while still being strapped in is beyond me. But she can do it! Crazy baby!

So there you go. Those are our latest pictures of Jilly. She sure is growing up!